I honestly never really thought I'd be that girl who wears a veil. Since I can remember day dreaming about my wedding, I was barefoot and had flowers in my hair. (Yeah, I know, no surprise I live in Berkeley now.) I still love the idea of flowers being pinned in my hair (as I plan on wearing it down, flowing) but I have seen a lot of women wearing birdcage veils and thought they were adorable! So, what I've considered so far, is a birdcage veil with a pheasant feather "flower" attached to it. (I could make all of this, as I plan on having some pheasant feathers for the men's bouts anyway.)
My concerns with the veil are these: I've only seen photos of women with short hair, or their long hair pinned up, and I'm not convinced it will look "right" with my long hair down (and I definitely don't want to wear my hair up!). And... my glasses. Would a veil, specifically a short one, look silly with glasses on? I could wear contacts for the ceremony, and put my glasses on after, but I almost always wear glasses and tend to feel naked without them!
Here are some inspiration photos for the "flower" and the veil: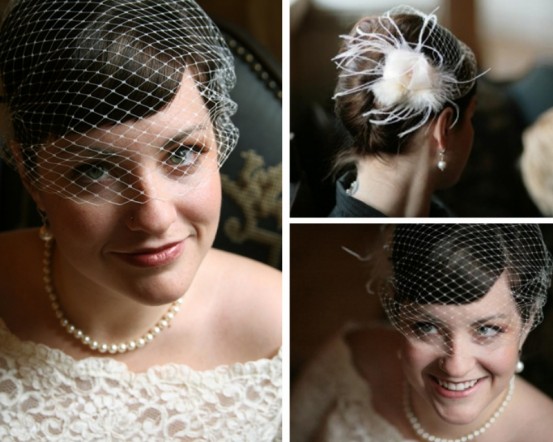 PS - A third option is the "flower" on a headband, just like the photo. I think it would look nice with my hair down, and avoid the veil/glasses "all up in my face" concern.